From a little girl I have always loved animals but due to our family circumstances was unable to have anything other than a pet rabbit, but I satisfied my 'need' by walking virtually every dog in our neighbourhood. Eventually upon leaving home I was able to fulfil my dream & in 1978 bought my first German Shepherd, a bitch called Kamajan Brynhilde of Conquell – Quella turned out to be a wonderful companion whom I competed with in Obedience & Working Trials, the seed had been sown for my on going love of this truly magnificent breed, I had a litter from Quella who produced the first Conquell puppy, a fabulous long coat, Conquell Rongrun Ascher, I had success in a variety of disciplines, Obedience, Working Trials and I took part in several displays. I also did a small amount of film work as well as being featured on TV & in several magazines. I had trained him up to a very high standard including manwork & with his ability to switch on & off he was a tremendous ambassador for the breed.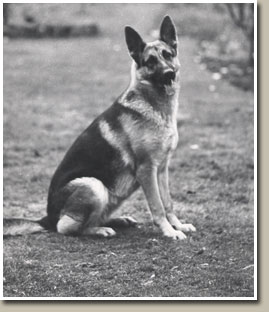 'Kamajan Brynhilde of Conquell - my first GSD'
I gradually expanded my GSD numbers & in the eighties and nineties some of our dogs had a fair degree of success in the show ring , although as I was by then developing my first training kennels in Devon, I didn't manage to get to a huge amount of shows due to business pressures & also showing & promoting our rare breed horses, which was to continue for the next 20 years, including moving the training kennels to Berkshire in the early nineties, which is why Conquell dogs are rarely seen in any numbers in the show ring.
In 2001 we decided to head for warmer climes & taking all of our pedigree Lusitano horses, German Shepherd dogs & too many cats to mention we relocated in Southern Spain, where we were for almost five years, only having one litter of GSD's whilst out there that ironically all came back to the UK on their pet passports to new owners willing to wait the extra few months just to have a Conquell puppy. Again, I think that says a lot for the confidence people have in our breeding! We have settled in South Wales where I intend to pick up the reins again & breed in a more active way. Our first litter by Ch.Lararth Houdini all went to people who had previously had a GSD from us years ago & upon hearing we were back in the UK were willing to travel, in some cases a considerable number of miles, to have another Conquell puppy. To say I was flattered that people think so highly of my dogs was an understatement, thank-you.
The original working lines have never been completely lost & continue as a thread in the Conquell kennels, known for years for producing sound minds & bodies Conquell GSD's are still very sought after by several Police forces who have had Conquell dogs over the years. Our kennel is renowned as producers for working,service & most importantly wonderful family companions, breeding for QUALITY not Quantity.
Long coats have always held a special place in my heart, as back in 1979 the first CONQUELL puppy was a beautiful long coated male 'Spyrus' who I went on to have success with in Working Trials & Obedience, he was to be a very, very special companion who helped me through a difficult era of my life. Since then I have always had several long coats as part of the Conquell kennel as I know how very popular they are with people wanting a glamorous companion.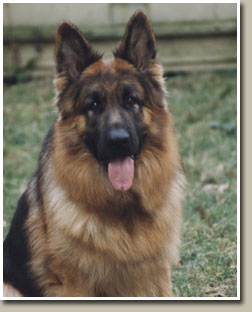 Long coats are now accepted to be shown under Kennel Club regulations.
Many long coats do not have a correct undercoat which is detrimental to the desired weather proof coat. None the less, a long coat is always a very glamorous dog & always very popular for families wanting a loyal companion as an addition to their family. The Conquell kennel has become known for producing exceptionally handsome long coats as well as puppies with the usual short/heavy coat.